Search Suggestions
Gold Loan
Gold Coin
Money Transfer
Mutual Funds
Leading from the front: Mr. Alexander George Muthoot in conversation with Business Today
Mr. Alexander George Muthoot, Deputy Managing Director, The Muthoot Group, talks about carrying forward the 800 years of business legacy of the Muthoot Family through varied CSR initiatives and strong Corporate Governance Practices in conversation with Business Today.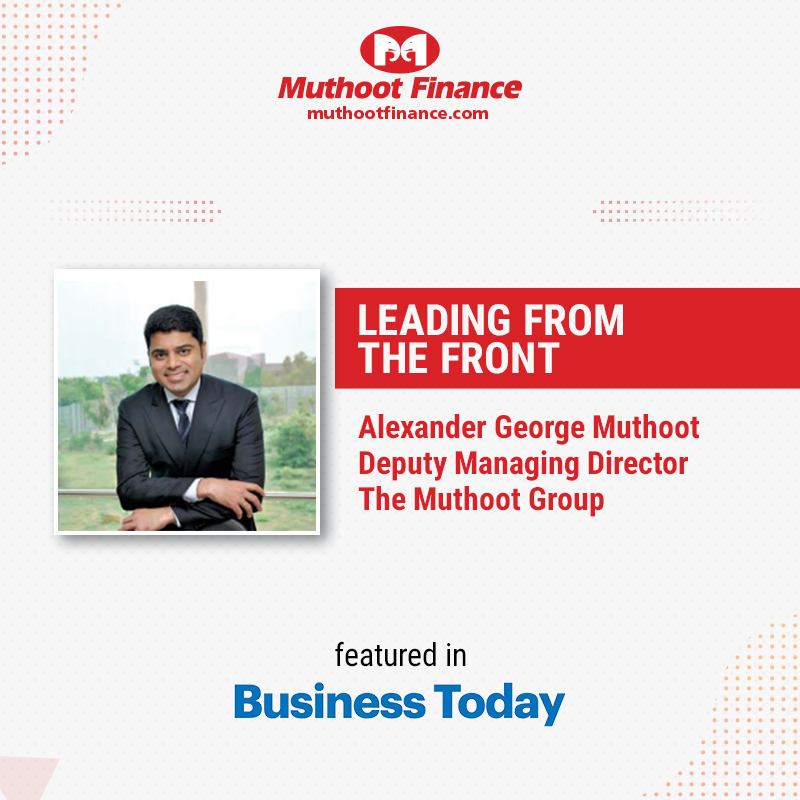 Spearheading Muthoot Finance, the flagship company of The Muthoot Group, towards its relentless march towards greater glory is Mr. Alexander George Muthoot, Deputy Managing Director, The Muthoot Group. Under his dynamic and visionary leadership, The Muthoot Group expanded its operations to international markets such as the USA, UK and UAE. The Group is also present in Sri Lanka, Nepal and Central America (Costa Rica). He has enabled exponential growth in branch networks through innovative marketing strategies and various technology initiatives, benefitting both customers and employees.
As the youngest son of Shri M.G. George Muthoot, Late Chairman of The Muthoot Group, Mr. Alexander George Muthoot joined the family business as a Manager after completing his advanced diploma in business administration from Florida International University and an MBA from Thunderbird University in the USA. His tireless efforts and immense dedication helped him rise through the ranks to become the Deputy Managing Director of the Group.
He is a firm believer in the role of strong corporate governance in present-day business and likes to practice the same in whichever way possible. Some of the many corporate governance practices pioneered by him include a strong Audit Department with over 1100 internal auditors, the use of Statutory Compliance Management Software, Customer Relationship Management Software for customer on-boarding integrated with digital and video KYC, high-tech surveillance system for the safety of customer's pledged gold and much more that have helped the Group cross some landmark milestones.
The Group serves more than 2.5 Lakh customers every single day. The Trust Research Advisory - India has hailed Muthoot Finance as India's Most Trusted Financial Services Brand for 5 years in a row, from 2016 to 2020. Recently Muthoot Finance has been certified as a 'Great Place to Work' as well.
Mr. Alexander George Muthoot has also championed the cause of diversity at the Group. Over 40,000 employees work with The Muthoot Group today, drawn from all walks of life. More than 30% of the workforce in key branch leadership positions are women.
Corporate Social Responsibility (CSR) and Individual Social Responsibility (ISR) initiatives have been the hallmarks of Mr. Alexander George Muthoot's leadership. He has combined business acumen with the Group's core values of integrity, honesty and ethics to benefit a large section of the society. Apart from the plethora of noble activities carried out by the Group frequently, it also runs a state-of-the-art Cancer Care Centre called M.G. George Muthoot Cancer Centre at Kozhencherry, Kerala in the fond memory of the Group's Late Chairman Shri M.G. George Muthoot which serves the lesser privileged people of our great nation.
Read the complete Business Today feature at https://bit.ly/TMG-Business-Today