Search Suggestions
Gold Loan
Gold Coin
Money Transfer
Mutual Funds
Shri M. G. George Muthoot felicitated among 50 Most Influential Seniors by Seniors Today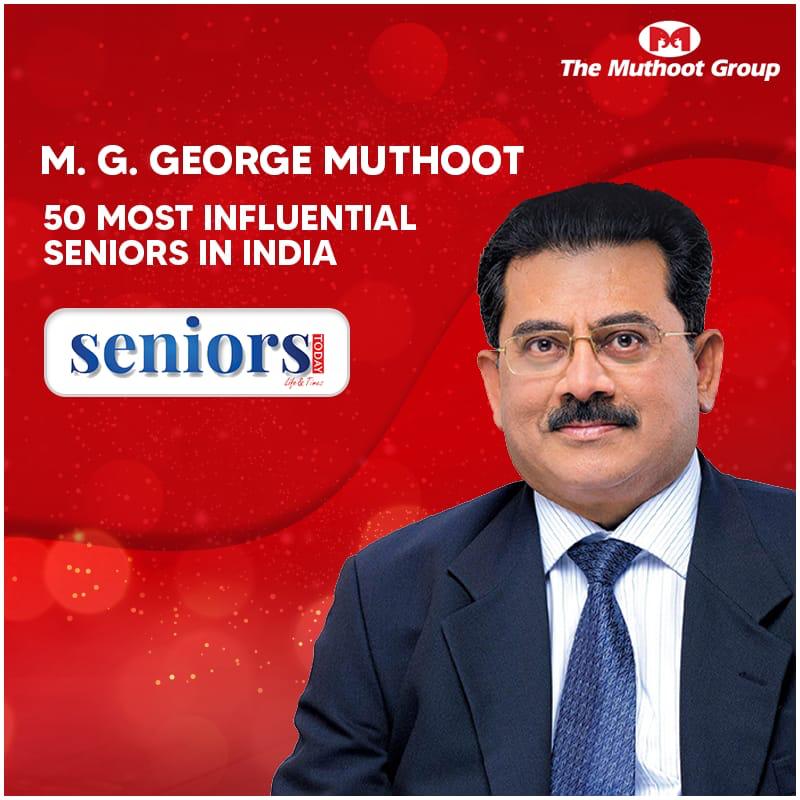 Our Group Chairman, Shri M. G. George Muthoot, has been recognized as one of the top 50 Most Influential Seniors of India, by Seniors Today. The list includes Most Influential Seniors wielding a significant influence on not just their industry in general but also at large across the community and society.
This is a moment of humble pride and celebration for all of us at The Muthoot Group.
Our Chairman Sir is a visionary & innovative strategist and an ardent philanthropist. He believes and propagates the 7 fundamental principles of our Group - Ethics, Values, Reliability, Dependability, Trustworthiness, Integrity, and Goodwill. He also believes that social responsibility transcends business priorities and empowers lives.
Under his able leadership, The Muthoot Group, apart from witnessing enormous growth and widespread diversification into newer business divisions have also enabled financial inclusion for millions across the nation.
Recently, he was declared the 26th Richest Indian and the Richest Malayalee in India by Forbes Asia Magazine, 2020.
He is also the National Executive Committee Member of FICCI as well as Chairman of FICCI's Kerala State Council.
He has also been honored with many prestigious national and international awards over the years and has revolutionized the country's financial sector.
Seniors, Today is a leading e-magazine known as India's No.1 Destination for Senior Citizens.
Source: https://seniorstoday.in/other-stories-for-seniors-citizen/50-most-influential-seniors